People
Professor Thankom Arun
Professor
EBS - Accounting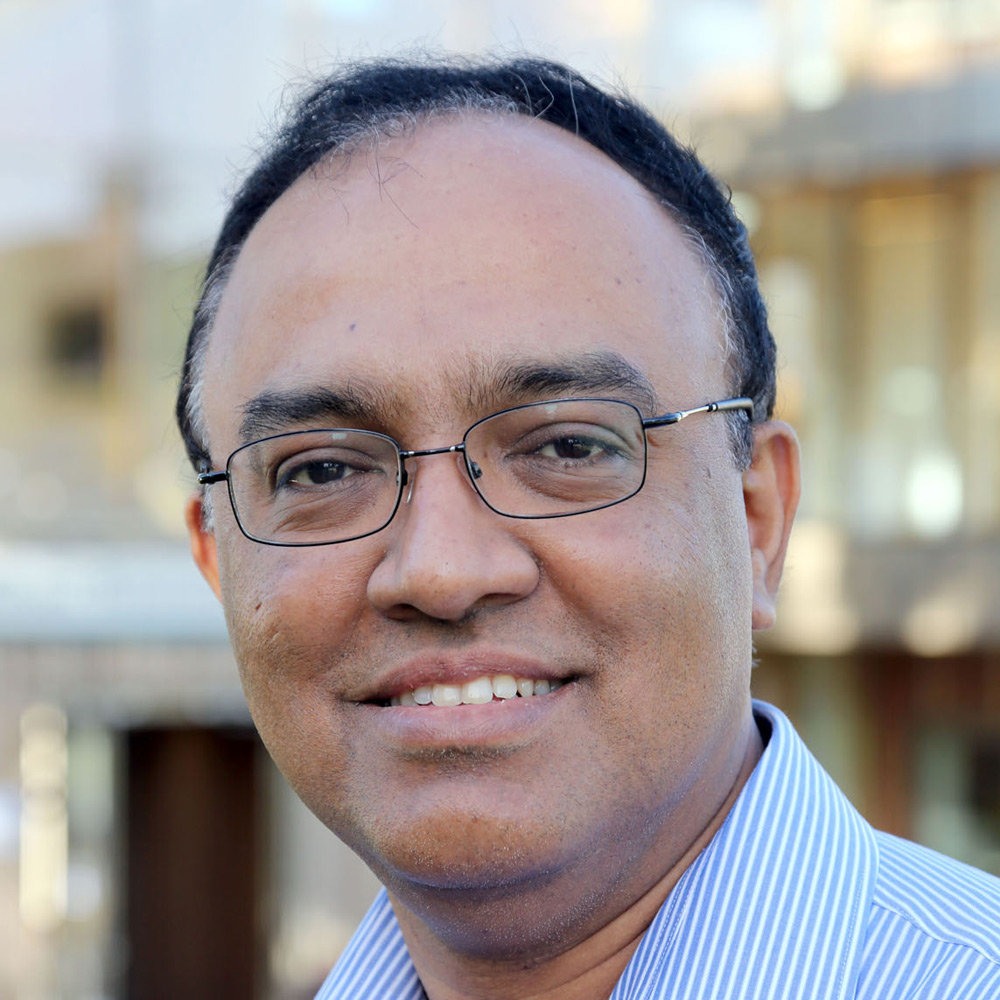 Email

t.g.arun@essex.ac.uk

Telephone

+44 (0) 1206 872750

Location

EBS.3.79, Colchester Campus

Academic support hours

You can find details of Academic Support hours on the EBS UG and PG information page on Moodle or by calling EBS Student Services on 01206873911
Profile
Biography
Thankom Arun is a Professor of Global Development and Accountability at the Essex Business School. Currently, he is a Professor Extraordinaire at the Stellenbosch Business School, South Africa and a Research Fellow at IZA, Bonn. He is also Chairing an academic steering group on Financial inclusion in the International Cooperative and Mutual Insurance Federation (ICMIF). He is a Fellow of Academy of Social Sciences and a Fellow of the Royal Society of Arts, Manufactures and Commerce. Previously, he was Professor and Director of the Institute of Global Finance and Development (IGFD), at the Lancashire Business School, UCLan; Visiting Professor at the University of Rome and held academic positions at Manchester and Ulster. Thankom's research has been a move away from arbitrary disciplinary constraints towards an interdisciplinary learning process to understand the global challenges, particularly in developing/emerging country contexts. Over the years, the research carried out aims to understand, theorize and tackle the problems created by the uneven relationships between business, society and economy in an interdisciplinary framework. Thankom's recent research interests are in the areas of Fintech, financial inclusion, climate change and sustainability. He welcomes inquiries from prospective doctoral students in any of these areas. Grants: ESRC, British Academy, British Council, World Bank, EU etc. Project Reports (2021) Integrating climate change and livelihood within public investment policies: A cross country assessment in South Asia, PEFA/World Bank (with Bedanand Upadhaya, Chaminda Wijethilake, Pawan Adhikari and Kelum Jayasinghe) (2020) 'Mainstreaming' financial inclusion in India, UKIERI (2015) Microfoundations of access to finance, ESRC (2011) Microfinance Regulation in USA, Lilly foundation and Indiana University (with Aruna Chandrsekhar) (2010) Microfinance Regulation and Social Security, European Development Report Background paper, European Union (with Victor Murinde) (2009) Corporate Governance, Regulation and Development, ESRC (with John Turner) (2009) Combating Multiple and Overlapping Vulnerabilities: Microinsurance for the Poor in Sri Lanka, British Academy (2003) Improving Access to Rural Finance in India: Supply Side Constraints, World Bank (with Paul Mosley).
Qualifications
Research and professional activities
Research interests
Global Development and Development Finance.
Emerging economies
Financial Inclusion, Technology based financial delivery/services, Microfinance and Microinsurance
Issues in Corporate Governance, Disclosure and Social responsibility
Hybrid Organisations and Social Enterprises
Issues in Sustainable Development
Conferences and presentations
'Mainstreaming' financial inclusion
50th Foundation Year Lecture, Centre for Development Studies Trivandrum, India, th Foundation Year Lecture, Centre for Development Studies Trivandrum, India, Trivandrum, India, 22/1/2021
(2015) Development, Finance and Accounting: Trends and Research Priorities, Keynote Lecture, British Accounting and Finance Association, Accounting and Finance in Emerging Economies (Special Interest Group), 14th Research Workshop Programme, 27th November 2015.
2015
(2015) Hybrids in Financial Services and Financial Inclusion: the case of Microfinance, ESRC Research Seminar on Responsible Finance: An Emerging/Developing Countries Perspective, 12th November 2015.
2015
(2013) Global Policy Research Symposium to Advance Financial Literacy, organised at OECD Headquarters in Paris, attended as an expert on 31 October 2013.
Paris, France, 2013
(2011) Finance and Regulation, Keynote address at the International Conference on Microfinance, Chandragupta Institute of Management, Patna (CIMP), June 2011.
Patna, India, 2011
(2010) Microfinance Regulation and Social Protection, invited presentation, Conference on Experiences and Lessons from Social Protection Programmes across the Developing Word: What Role for the EU?,University of Paris, 17-18 June.
Paris, France, 2010
(2009) Governance Blackbox in Microfinance, Plenary lecture at the Second International Conference on Development Policy, Institute of Finance and Management, Tanzania, 7-9 August 2009.
Tanzania, United Republic of, 2009
(2009) Combating Multiple and Overlapping Vulnerabilities, Invited presentation at the Central Bank, Sri Lanka, 30th June 2009.
Sri Lanka, 2009
(2008) Microfinance: The way Forward, Invited research seminar at Bradford, Centre for International Development, University of Bradford, 18 March
Bradford, United Kingdom, 2008
(2008) Microfinance: New challenges, International conference on Microfinance and Millennium Development Goals, University of Cape, Coast, Ghana, 7-8 January 2008
Cape Coast, Ghana, 2008
(2008) Invited Lecture on Microfinance at the Northern Universitys India forum meeting at Lake District, UK, organised by the Lancaster University.
Lancaster, United Kingdom, 2008
(2007) Corporate Governance and Regulation, International Conference on Competition and Policy: Emerging Themes in Policy and Practice, Beijing, 25-26 February.
Beijing, China, 2007
(2007) The Regulation of Microfinance and the poor, Lecture at 12th Dilman Governance Forum, National College of Public Administration and Governance, Philippines, 2nd March.
Philippines, 2007
(2004) Microfinance for Cooperation: Sustainability, performance and legal framework, Euro-Mediterranean Conference on Microcredit, Rome, 6th December
Rome, Italy, 2004
(2004) Regulation of Financial Institutions, Jointly organised by the Institute of Legal Affairs, University of London, Oxford Brooks University and Journal of International Banking Regulation, 1st April.
2004
(2004) Regulation of Microfinance, Conference on The Regulation of Development and the Development of Regulation, jointly organized by Centre on Regulation and Competition and the University of Illinois, 23rd April.
Chicago, United States, 2004
(2003) Strategic Approach for Development Financing and the role of Private capital, Keynote presentation in the Conference on the Road to prosperity Northeast Financial Hub, jointly organised by Korea Development Bank and Korea Institute for International Economic Policy and with the support of Koreas Ministry of Finance and Economy, Seoul, 8th December.
Seoul, Korea, Republic of, 2003
(2003) Regulation and Profitability, International Telecom Union and Centre of Excellence for East Africa at Maputo, Mozambique, 2nd June.
Mozambique, 2003
Teaching and supervision
Current teaching responsibilities
Critical Debates in Accounting (BE133)

Corporate Governance (BE139)

Social Entrepreneurship, Innovation and Impact (BE876)

Business Report (BE967)
Previous supervision Rasheed ASM Alrashidi
Thesis title:
Essays on Access to Finance: A Case Study of Indian Firms
Degree subject:
Accounting
Degree type:
Doctor of Philosophy
Awarded date:
16/8/2021 Alexandros Parginos
Thesis title:
Corporate Social Responsibility and Socio-Environmental Reporting Practices: Evidence From an Exploratory Study in the Greek Context.
Degree subject:
Accounting
Degree type:
Doctor of Philosophy
Awarded date:
11/5/2021 Arastyo Andono
Thesis title:
The Environmental Management Accounting Control as a Practice
Degree subject:
Accounting
Degree type:
Doctor of Philosophy
Awarded date:
18/12/2020 Mohammad Moniruzzaman
Thesis title:
Enterprise Risk Management (Erm) in the Banking Sector: Evidence From Bangladesh
Degree subject:
Accounting and Finance
Degree type:
Doctor of Philosophy
Awarded date:
1/6/2020 Masuon Mohammedsaeed M Khojah
Thesis title:
Corporate Narrative Disclosures in Saudi Arabia
Degree subject:
Accounting
Degree type:
Doctor of Philosophy
Awarded date:
14/12/2018 Dian Kartika Rahajeng
Thesis title:
Stakeholders' Perceptions of Fraud in Indonesian Bmt Islamic Cooperatives
Degree subject:
Accounting and Finance
Degree type:
Doctor of Philosophy
Awarded date:
18/10/2018 Arastyo Andono
Degree subject:
Accounting
Degree type:
Master of Research
Awarded date:
4/10/2017 Sanjay Venkata Lanka
Thesis title:
Accounting for Sustainable Livelihoods: The Dialectic Between Fairtrade and Biodiversity
Degree subject:
Accounting
Degree type:
Doctor of Philosophy
Awarded date:
4/7/2017
Publications
Grants and funding
2020
Competency framework in public service delivery: the case of India
University of Essex (GCRF)
Integrating Climate Change within Public Investment Policies: A Cross Country Assessment in South Asia (India, Sri Lanka and Nepal)
The World Bank (World Bank Group)
UK-India Bilateral Trade in FinTech and FinTech-Enabled Services: Emerging trends and potential for growth
Economic and Social Research Council
Two-Way Visiting Fellowship with Indian colleague
University of Essex (GCRF)
Causes of Maternal Mortality in Botswana: An Exploratory Study
University of Essex (GCRF)
2019
Public sector accountability in Kerala, India
University of Essex (GCRF)
2017
Mainstreaming of the Finacial Inclusion Agenda in India
UKIERI
IAA ECC Challenge Lab project - Waste Busters
University of Essex
Contact
Academic support hours:
You can find details of Academic Support hours on the EBS UG and PG information page on Moodle or by calling EBS Student Services on 01206873911